The ceiling is not the first place you'd think of putting wallpaper, is it?  After all it's called wallpaper – but maybe not. One of the most simple yet creative ways to transform your living space is to utilise the fifth wall, whether choosing a pared back minimalist design or a bold pattern.
If you'd like to have a statement ceiling but don't feel comfortable with a patterned wallpaper,  you can still achieve a lovely effect with an out of the box colour (I mean not white please…). The same colour or one shade lighter than the walls with a  glossy finish will give a smoother and larger feel to the space. A bold colour will create an impact and immediately draw the attention.
Whether it's a wallpaper or an accent colour, when it's done right, the risk is worth the effort. Here are some of my favourite applications which may give you some inspiration.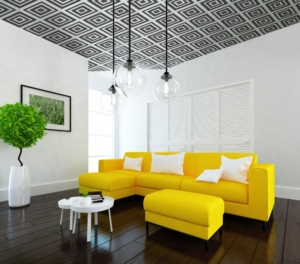 Muriva Aztek diamond wallpaper transforms this living room.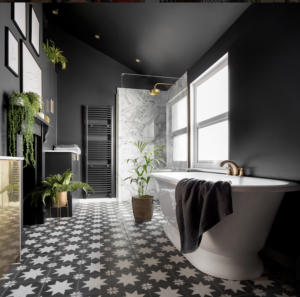 I love the monochrome look with bold black and white pattern for added sophistication in a modern bathroom. Stiles tiles have a great collection.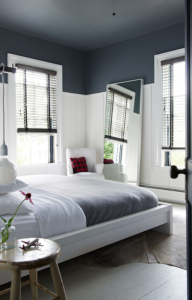 A nice feature to apply when you have the luxury of a high ceiling.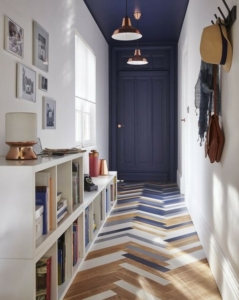 A great way to combine the accent colour of door with the ceiling.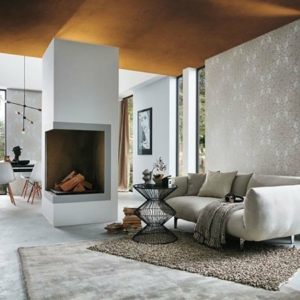 Another bold yet creative application which gives this space a stunning look.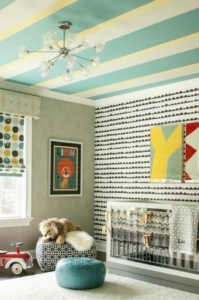 One can get away with more courageous options in the kids bedrooms. So why not forget about the fairy clouds or abstract stars and choose bold stripes and a unique colour palette like in this nursery.