If only I knew how much I'd enjoy sharing my passion and experience in interior design with like minded people, I would have started giving seminars and workshops much earlier.
Preparing and giving presentations about various subjects on interior design brings back the good memories of my life in advertising where effective communication of well prepared, strategically sound yet creative ideas was the key to success – just like in interior design.
A corporate background in brand communication has helped me a lot in developing a structural approach to interior design. In a nutshell that means following the right steps before getting too excited and jumping to decisions that may lead to costly mistakes.
In the "How To Be Your Own Interior Designer" seminar, I take the participants on a journey from organising aspirations to developing and executing a design scheme without going off the track in an efficient and confident manner.
I also give practical tips on how to tackle common challenges and avoid frustrations with 3rd parties as this special journey should not be a torture for anyone but fun…
Whether it's a small room make over or a full house refurbishment, if you have a project at hand and need some advice, come and join us for a 1,5 hour session at the lovely and surprisingly "non-bank" lounge of Halifax Bank in New Oxford street on Tuesday, February 11 at 6:00 – 7:30 pm.
I would like to thank Refresh Yourself group for organising these wonderful gatherings to help people "refresh" their lives !..
Please follow the link for details and registration;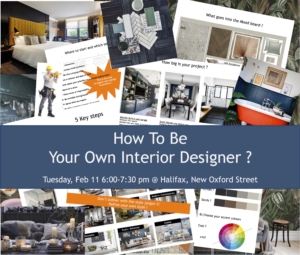 Here are a few images from previous seminars and workshops.